Mommy Blogger MilitaryWife maintains a blog called Stay At Home Mom & Military Wife. As the name of her blog suggests, she is married to a Military Man and is a SAHM to two little ones, her almost 5 year old girl who is her Princess and her close to 1 year old baby boy who is her Little Man. In it she chronicles A day in the life of a Military Wife to a husband who's deployed plus SAHM to a little girl at school and a little boy in diapers.

I love the little M&Ms on her blog header which she uses to depict her little family. Military Man looks like a Transformer M&M (he looks really cool with raised eyebrows and all), Military Wife is a dazzling pink M&M, her little Princess is the lighter pink M&M in a tiara while baby boy is the pale blue M&M. Totally adorable.

If you like Memes, you may be interested to know that Military Wife is hosting a brand new Musical Monday Meme on her blog. Here's how the musical game works. Every Monday she will post a Musical Question on her blog and you are to answer the question on your blog. Simple and Fun and a good way to fill in for those days when you get a blogger's block. :)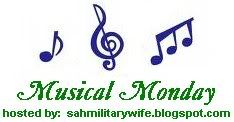 And for those of you who likes crafts for kids, she posts a craft idea on her blog every Friday.
Pin It